Reconyx HL2X Hyperfire 2 License Plate Camera
Reconyx HL2X Hyperfire 2 License Plate Camera
Contact us for pricing, discounts apply for bulk purchases!

Secure Payment
The Reconyx HL2X Hyperfire 2 License Plate Camera is the only Number Plate Camera in the world.
Due to the reflective nature of license plates, they are a difficult target to photograph. Especially at night when headlights and taillights are influencing the image. Reconyx HL2X HyperFire 2 reliably captures license plates on vehicles traveling at speeds of 80km day or night. The camera will produce colour images by day, black and white images by night. It features a 0.2 Second trigger speed coupled with the 30m motion detection range; means you won't miss a thing! The new NoGlow™ GEN3 high output infrared night vision flash is 15 meters. Reconyx HL2X does not require a large flash range. The new Image Sensor provides high-definition images and videos.
HL2X Features
Primary Application: License Plate Capture
Trigger Speed: 0.20
Detection range: 30m
Flash range: 15m
Video: 720p HD
Theft protection: Codeloc
Reliably captures images license plates up to 80kms
12 x AA Batteries
5 Year warranty
The Security Series Camera Range have additional features such as; loop recording, (over-riding beginning images so the camera will continue to record once the memory card is full.) Advanced multi-scheduling (programming the camera to only operate during set hours of the day and different days of the week) and more.
For more information on Reconyx HL2X Hyperfire 2 give us a call!
Sample Image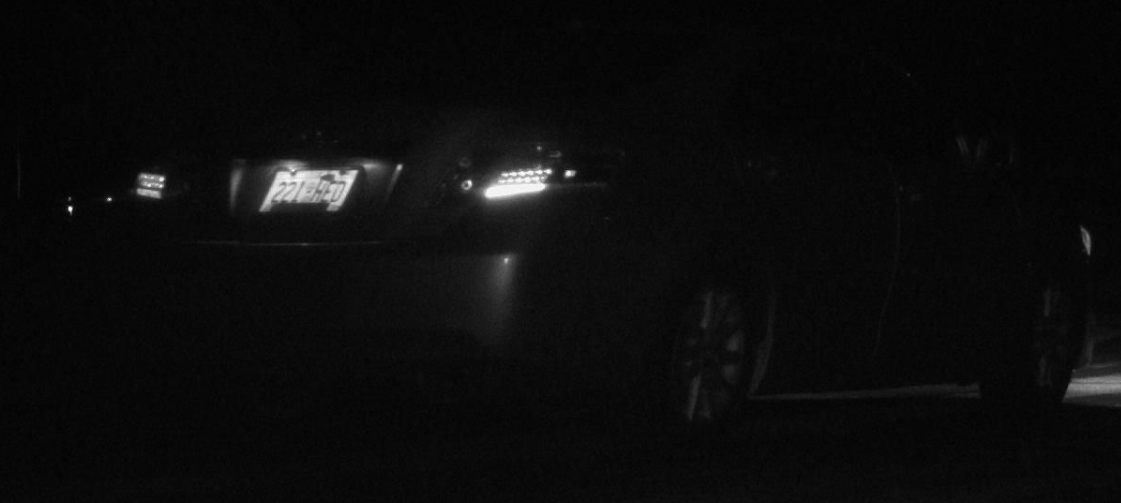 Primary Application: License Plate Capture
Image Resolution: 720 x 2048 Wide Screen or Standard Aspect Ratio
Video: 720P HD Video with Audio
Video Length: Up to 90 Seconds
Product Warranty: 5 Years
Dimensions: 5.5″H x 4.5″W x 2.5″D (14cm x 10cm x 6.4cm)
Operating Temperature: -20° to +120° Fahrenheit (-29 to +50 °C)
Illumination: No-Glow™ High Output Covert IR
Illumination Range: Up to 15 Meters
Illumination On/Off Option: Included
Illumination Power Settings: Low/Med/High
Mapping & Image Management Software: Security View Image Management & Configuration Software
User Defined Metadata in MapView™: Included
Metadata Export from MapView™ : Included
Image Detail: Colour by Day, Monochrome Infrared by Night
Trigger Speed: 0.2 Second
PIR Detect Range:  15 Meters
RapidFire™ Near-Video Speed: Up to 3 Frames Per Second
Frame Rate: RapidFire™ to 10 Seconds Between Images
Photos per Trigger: 1 to 10 Images Per Trigger
Delay After Triggering: 0,5,10,15,30 Sec, 1,2,3,5 Min
Delayed Start up to 1 Year: N/A
Day/Night Options for Pics and Videos: Included
Night Time Shutter Speed:  1/960
Max ISO Setting: 1600
Motion Sensor Scheduling: ON or OFF and Scheduled Operation by Day
Day of the Week Scheduling for Motion: Included
Time-Lapse Surveillance: 1 Pic and/or Video
Time-Lapse Interval: 5,15,30 sec, 1,5,15,30 Min, 1 Hour
Time-Lapse Scheduling: Up to 5 Start and Stop Times (Fixed and Solar)
Day of the Week Scheduling for Time Lapse: Included
Loop Recording: Included
Memory Card Type: Secure Digital (SD®, SDHC® or SDXC®)
Memory Card Capacity: Up to 512GB
Image Data: Time, Date, Temperature, User Label, Moon Phase
Geo-Tagging of Pictures: Included
Battery Life: Up to 80,000 Images or 2 Years
Battery Requirements: NiMH Rechargeable or 1.5 Volt Lithium Only
Battery Quantity/Size: 12 AA
External Power Connection: Optional
Camera Settings: Available Options Are Set On Camera
Theft Deterrence: CodeLoc™ Pass-Code Protection